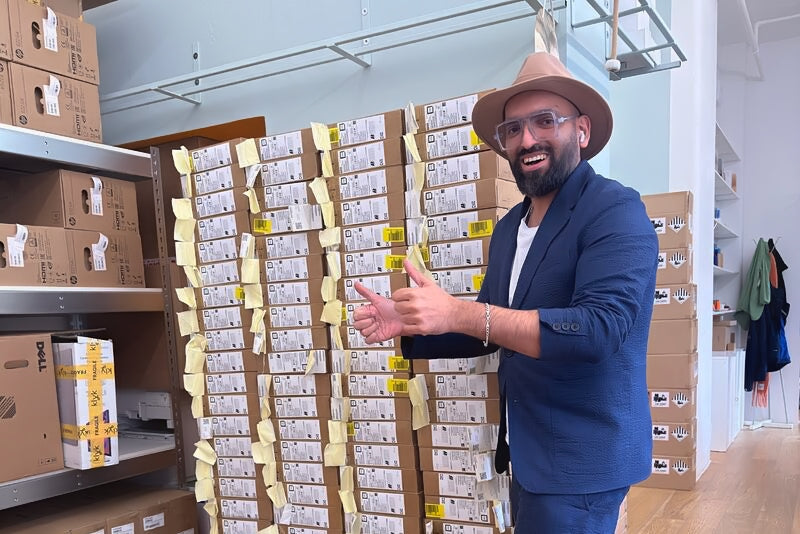 In today's fast-paced technological landscape, businesses often focus on acquiring the latest computer hardware for their staff. This costly and environmentally unfriendly procurement method is fine for some companies, but others who'd like a more cost-effective approach are missing a massive opportunity.
This is an opportunity to save money, follow sustainable business practices, and still provide their team with first-hand equipment and an as-new experience. This untapped opportunity is purchasing excess stock.
Excess stock refers to first-hand equipment of previous years' hardware models, such as laptops and monitors, that companies like Apple or HP didn't sell. Due to the current economic downturn manufacturers experienced a major drop in consumer demand, with Apple sales falling 28.7% in Q1 2023 from the previous year. This downturn has increased the chance for businesses to access this excess stock. 
Allow me to now enlighten you with 4 key reasons why purchasing excess stock is a win-win-win for your bottom line, staff, and the environment.
Financial Benefits
Businesses can acquire powerful first-hand equipment without breaking the bank when they opt for excess stock, with savings up to 20-30% vs buying new. This is particularly advantageous for start-ups and growing companies that may not have the budget to purchase the latest tech for each new starter. They can access premium products without the premium price tag by choosing excess stock.
Phenomenal Quality Despite Age
The truth is the rate at which hardware quality improves year-on-year has slowed down significantly.
An example of this is Apple's release of the M1 range. M1 was a revolutionary step forward in computer performance and battery life. However, due to the quality of M1, their next line, M2, has only taken a gradual step forward. Well known tech critics such as Marques Brownlee (also known as MKBHD) have questioned whether it is really necessary for this very expensive, incremental choice of upgrade.
Sustainability Matters
Embracing excess stock is a sustainable choice. It prevents top-quality devices from being discarded, reduces electronic waste and minimises environmental damage. The latest hardware is created from extremely valuable resources, and purchasing excess stock means your business is taking a significant step forward in adopting sustainable practices.
The Creative Industry's Embrace of Sustainable Tech
There has been a notable trend with businesses and roles in the creative space utilising sustainable tech. Creatives often need very powerful and expensive devices to do their work. Graphic Designers, Creative Directors, Studio Managers and Art Directors (to name a few), are using programmes that need their hardware to work at a high level. If these businesses need to purchase a lot of this equipment 'brand new', the bill starts rocketing fast. Adopting sustainable tech gives you top-quality products without the top price tags.
Klyk: Your Trusted Partner
If your business is looking for sustainable, pristine, powerful desktops with amazing specs at a fraction of the price, look no further than Klyk. We have first-hand iMac 27" all-in-one with Intel i7 and i9 from 2021 in stock now.
Contact us today, we have further bulk discounts available. It's time to upgrade your team's tech, sustainably.