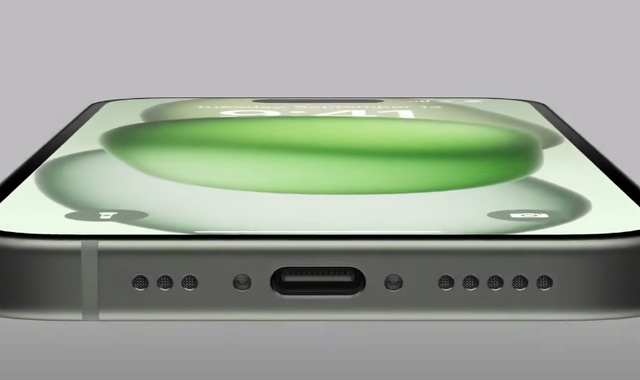 Few events globally arrive with as much anticipation for the tech community as the release of the new iPhone. This year's iPhone 15 has one particular feature change that has got everyone talking - and in a departure from Apple's usual approach - it wasn't made by choice. That's right, this year, Apple has been made to fall in line and support the USB-C charging port due to new EU regulations. 
This blog will examine the new iPhone, look into the USB-C port and give you all the information you need on this and the iPhone 15's other features. 
What is USB-C and why is it different from a lightning cable?
A lightning cable is a proprietary Apple charger that will only work with a select list of their devices, whereas the USB-C cable has a wide range of products it works with, including other phones such as Android. 
Apple held steadfastly to its lightning cable for many years, even as other phone manufacturers switched to the more universal USB-C. 
However, as part of the EU's efforts to reduce e-waste and establish a standard charging port across electronic devices, Apple has been compelled to transition to USB-C. While the company had until the end of 2024 to adhere to these new rules, Apple took the leap early, announcing the shift during the iPhone 15 launch.
Why This Move Benefits Everyone
Shifting to USB-C is a boon to users for numerous reasons:
Universal Compatibility:

USB-C has emerged as the definitive connection for modern gadgets. Its ubiquity means that people can now carry a single charging cable for multiple devices, enhancing convenience.

One Cable, Multiple Functions:

The iPhone 15 series users can now charge other Apple products using the same port, such as AirPods, Macs and Apple Watch.

Faster Data Transfer:

Especially for the iPhone 15 Pro and Pro Max models, the transition to USB-C heralds faster data transfer speeds, allowing professionals to transfer large files, including 48-megapixel ProRAW images and 4K 60fps videos, more swiftly.
The Two Sides of the USB-C Coin
While the USB-C brings numerous advantages, it's not without potential pitfalls. One primary concern is Apple's possible introduction of a "Made for iPhone" certification program specifically for USB-C, something they have done with products in the past. Historically, while this program ensured quality and safety, it also allowed Apple to earn royalties on certified sales.
The EU has already warned Apple against this move, so how the company will navigate these waters remains unknown.
Another downside of the shift is the obsolescence of existing Lightning accessories and cables. Users might find themselves in a position to replace their current accessories or invest in adapters, which is neither cost-effective nor environmentally friendly. 
A Glimpse into the Future
Beyond the iPhone 15, it's evident that USB-C will play a significant role in Apple's plans, especially given the EU mandate. Yet, there are whispers about a possible portless iPhone, which would rely entirely on wireless technology for charging and data transfer. If Apple does move in this direction, it could circumvent the need for wired charging altogether.
The Growing Threat of E-Waste
One of the primary drivers behind the EU's decision to mandate this change is the growing global e-waste problem. 
A quote from the European Parliament's press release reads: "These new obligations will lead to more re-use of chargers and will help consumers save up to 250 million euro a year on unnecessary charger purchases. Disposed of and unused chargers are estimated to represent about 11,000 tonnes of e-waste annually."
There are 54 million tonnes of total e-waste generated globally every year, with less than 20% recycled correctly. At Klyk, we are incredibly supportive of all initiatives that drive this number down and see this move by the EU and Apple as a positive step in our shared fight against this growing scourge on our planet. 
iPhone 15 vs. iPhone 15 Pro and Pro Max: At a Glance
Beyond the USB-C port, here are other features that Apple fans will be excited about in the new models:
iPhone 15: Key Features
Upgraded Camera

: Shift from a 12MP to a 48MP main camera from the iPhone 14 Pro.

Improved Display

: Brighter screen outdoors for better clarity during sunny conditions.

Design Evolution

: Transition from rounded curves to more pronounced squared-off edges.

Performance Boost

: Enhanced zoom, stabilisation across video and photos, and superior low-light captures.
iPhone 15 Pro and Pro Max: Key Features
Titanium Design

: Makes these models lighter but equally robust as compared to other iPhones which use stainless steel.

A17 Pro Chip

: Touted by Apple as the fastest smartphone processor currently available.

Enhanced Camera

:

iPhone 15 Pro flaunts three rear cameras, while the standard iPhone 15 houses two.

iPhone 15 Pro Max boasts a 5x telephoto camera, providing the longest optical zoom on any iPhone.

Optimised Battery Life

: Pro Max offers 29 hours of video playback, with the Pro delivering 23 hours.

Functional Enhancements

: The action button replaces the mute switch, offering swift access to applications and utilities.
In Conclusion
While influenced by external regulations, Apple's decision to adopt USB-C marks a pivotal moment in its product evolution. As the tech community waits with bated breath to see how this transition unfolds and what it means for Apple's broader strategy, it is clear that the iPhone 15 release will be remembered as a hallmark moment of change.
If you're interested in learning how your business can get a more sustainable and cost-effective relationship with the technology you use, contact the Klyk team.