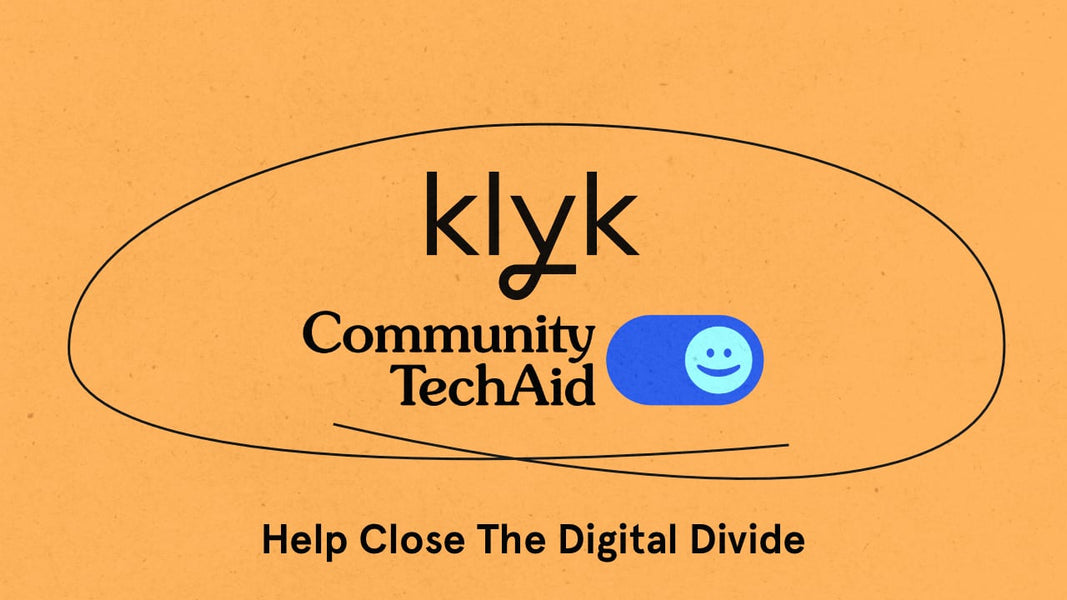 The transition from a realm of physical documents, phone books, and post notes to a digital era is near complete. This has resulted in a digital divide, access to emerging tools for self-improvement are no longer easily accessible, and access to technology is no longer a luxury but a necessity. At Klyk, we are committed to transforming how businesses procure their technology, embracing a more circular approach, helping reduce e-waste & creating a greener future. 
Our partnership with Community TechAid
Promoting a circular approach to technology enhances accessibility for all, with a wider range of options available. We are delighted to partner with Community TechAid, a remarkable charity dedicated to advancing efforts in bridging the digital divide. We are working with them to make significant strides in reducing this gap and ensuring equal technology access for all.
We are beyond excited to join forces with them and contribute to their mission. Our collaboration focuses on sourcing and donating pre-loved devices, ensuring they find a new home with those who need them most. We firmly believe that by repurposing technology, we can extend its life cycle, reduce electronic waste, and most importantly, promote digital inclusion.
What is the digital divide?
The digital divide refers to the unequal access to technology, encompassing smartphones, tablets, laptops, and internet connectivity. As the world has evolved to be more online, many people find themselves left out of the digital age, without the opportunities that can only be accessed through this technology.
Who Benefits
Community TechAid works with a wide range of institutions around south London. Overall a total of 350 partners, spanning a diverse range. These include educational institutions, refugee groups, food banks, shelters, mental health support services, and organisations devoted to assisting older adults, individuals with disabilities, and young carers.
Stephanie Charbine - Partnerships & Engagement Manager  
'Community TechAid exists to end digital poverty by providing sustainable access to the technology, skills and opportunities to get online. We are an award winning charity who work with people experiencing digital exclusion in our local Lambeth and Southwark community. We work with people who are often already marginalised, facing barriers to housing, healthcare, and other vital services, and who are cut off from local connections because of digital poverty. To date we have supported over 2400 individuals with technology and skills and diverted over 8 tonnes of e-waste from landfill. 
The cost of living crisis continues to escalate, meaning that many of our beneficiaries are struggling to make ends meet and are often turning to multiple sources of support, including food banks, mental health and financial services. Much like Klyk, we believe in the circular economy: repairing and refurbishing unwanted technology, returning it to use. With the help of partners like Klyk, we are able to continue the work that we do and help change the attitudes of businesses and consumers about what happens to their tech. What might be redundant tech to you, can be transformed into a lifeline for someone else. '.
What's next?
At Klyk, we're committed to making a difference, one device at a time. And with Community TechAid, we can make significant strides in bridging the digital divide. In the coming months, we'll work with Community TechAid, building our relationship and contacting our community to get involved.
Through this partnership, we aim to forge opportunities for a brighter future, extending the digital realm to those currently excluded. By embracing a circular future and bridging the digital divide, we aspire to empower individuals, allowing them to participate fully in the ever-evolving digital world in which we reside.
If you would like to get involved, donate or learn more about our partnership with Community TechAid, please don't hesitate to get in touch.
Email:
Hello@helloklyk.com